Pittsburgh, PA – April 21, 2015: Along with her outstanding colleagues, Ring of Hope Campaign President, Amelia Williams receives a proclamation from Pittsburgh City Council District 4 in Pennsylvania for her commitment and dedication to domestic violence awareness and prevention in Allegheny County Communities.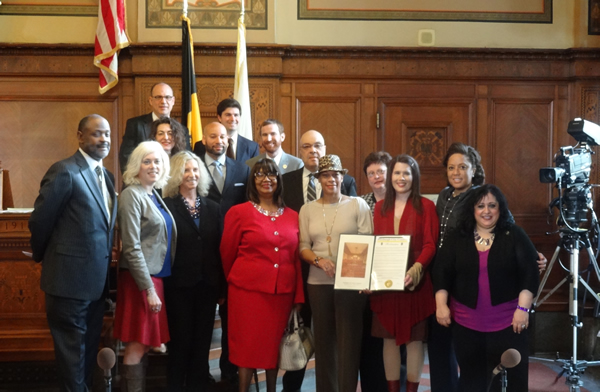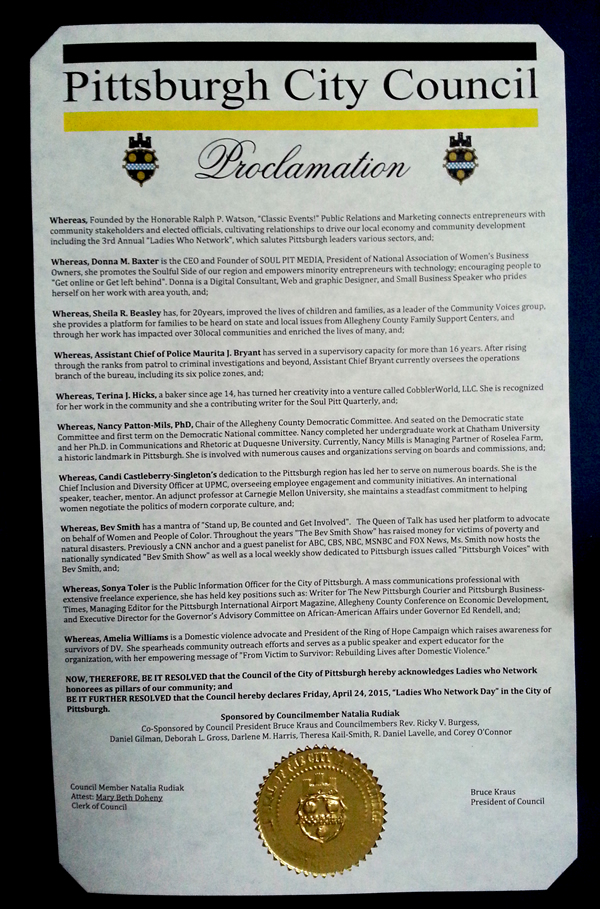 Ring of Hope Campaign Interview on Bethel Park Television (BPTV):
Sheila Hyland interviews Amelia Williams who discusses details about her life as domestic violence survivor, where to go for help, partnership with PA Coalition Against Domestic Violence, and the future direction for Ring of Hope Campaign.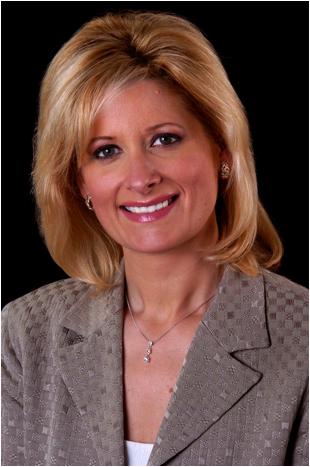 Sheila Hyland
Principal – FosterHyland & Associates
Sheila Hyland has more than 20 years of on-air television experience working for major network affiliates including ABC, CBS and FOX. She currently is a principal with Foster Hyland & Associates, an agency specializing in media training, executive coaching and crisis communications. Ms. Hyland also provides media consulting, as well as writing, production and on-air talent services for various corporate and institutional clients, including Velocity broadcasting. She most recently served as the main anchor for Fox 53 television in Pittsburgh from 1998 to 2006.
Ms. Hyland has interviewed many notable figures including Presidents Clinton and Ford, Holocaust survivor and Nobel Peace Prize winner Elie Wiesel and the Reverend Jesse Jackson. She has also interviewed nearly every local and statewide politician since coming to Pittsburgh in 1988, as well as local and national celebrities, and sports figures.
Ms. Hyland has extensive live shot and "breaking news" experience. Throughout her broadcast career, she reported on a wide range of high-profile stories, including the terrorist attacks of 9/11/01, the Quecreek Mine rescue and the crash of US Airways Flight 427, as well as every major election since 1984.
As managing editor for Fox 53, Ms. Hyland supervised a staff of 25 broadcast professionals. She was responsible for guiding the story selection and editorial direction of the station's nightly award winning 10 p.m. newscast, as well as all copy editing. In addition to her regular duties with the newscast, Hyland also hosted a weekly public affairs show, "Focus on Pittsburgh".
From August of 1988 to August of 1998, Ms. Hyland served as the weekend anchor and weekday reporter for WTAE-TV, the ABC affiliate in Pittsburgh. During her tenure there, Ms. Hyland was awarded a Golden Quill, along with first place honors in spot news reporting by the Associated Press, Radio and Television News Directors Association and Women in Communications.
From June of 1985 to August of 1988, Ms. Hyland anchored the number one weekend newscast at KWTV, the CBS affiliate in Oklahoma City. Ms. Hyland also served as an education and general assignment reporter. She received awards from the Associated Press and the National Press Photographer's Association for several of her feature stories. She was given an 'honorable mention' by the Oklahoma Gazette as Oklahoma City's best female anchor.
Ms. Hyland's career started at KHGI-TV, a small station in Kearney, Nebraska. There she learned every aspect of the news broadcasting business including writing, producing, photography, editing, reporting and anchoring.
Hyland is a frequent speaker, emcee and event volunteer for local schools and several non-profit organizations.
Hyland earned a bachelor's degree in broadcast journalism from the University of Nebraska. She is also a contributor to "Broadcast News Writing and Reporting", written by her former college professor, Peter Mayeux.
She and her husband, Rob, have two children. They reside in the North Hills.
Atria Senior Living Observes Domestic Violence Awareness Month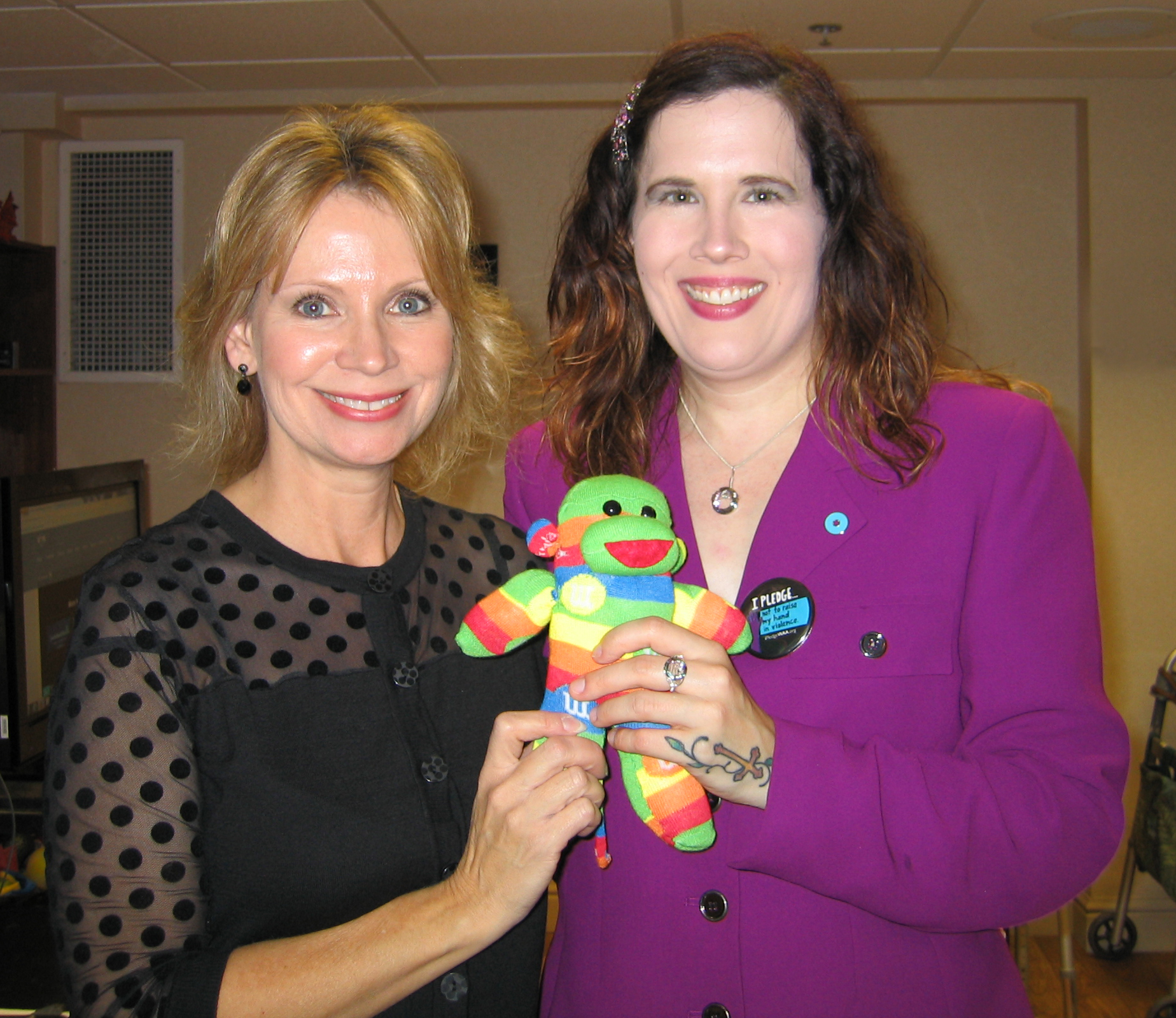 PITTSBURGH, Oct 20, 2013 — In observance of Domestic Violence Awareness Month, Atria Senior Living in Baldwin Boro, will sponsor a lecture on Domestic Violence on Wednesday, October 30, 2013 from 2 – 4 pm. Amelia Williams will be the featured speaker, and she is a 40-year survivor of childhood domestic violence and abuse. She is President and founder of the Ring of Hope Campaign. "As a public educator and partner with Pennsylvania Coalition Against Domestic Violence (PCADV), Williams says "I am honored to bring this lecture here to Atria. Domestic violence encompasses individuals of all ages, races, cultures, and ethnicities. Approximately 25% of seniors over the age of 65, especially women, have experienced some form of domestic violence." Amelia has spoken at corporate events, business associations and rotary clubs.
The residents of Atria have been creating handmade sock monkeys which will be distributed to women's shelters in our area to offer support and compassion to the children of victims of domestic violence. A sock drive is underway and donations of new socks are being collected at this time. For more information contact Donna Canovali, Engage Life Director at 412.884.1200.
Professionals with Impact
January 6, 2013. Part of healing from domestic violence is to be able to move on and be healthy. Amelia Williams has run the gamut of domestic violence survivor to advocate and fundraiser. She now uses her talents as a public speaker to create awareness of domestic violence abuse and her talent as an artist with commemorative jewelry for domestic violence awareness. She offers part of the proceeds from this custom designed jewelry to support Domestic Violence Awareness and Support Groups. She is the owner of Jewelry Art by Amelia.
Full article and audio interview here.
Source of Strength Found in Jewelry Designs
Highmark Shop to Stop Domestic Violence