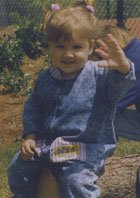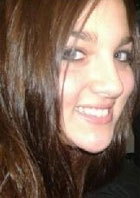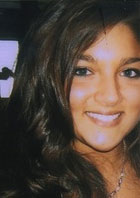 Demi Brae Cuccia was born August 14,1991 in Austell Ga. She was born at home, a middle child with an older brother and a younger sister. Our bond was immediate; she was a delightful little girl, with a smile decorated with dimples. We moved back to our hometown of Monroeville Pa when Demi was three. We became a single parent family in 1996. Demi was homeschooled until the second grade, she enjoyed being at home so public school was quite a difficult adjustment for her.
Demi was always very creative and a deep thinker. She loved animals, children and enjoyed being home with me, her brother Jake and sister Saige. She loved to color as a young child and looked forward to visiting Conneaut Lake every summer. As she grew into a beautiful teen, she loved Cheerleading for Gateway High School.
In the 6Th grade Demi was diagnosed with ITP, a disorder that affected her platelets. She was a very sick little girl and was hospitalized several times in a thirteen month period. She was healed at age 14 and that is when her faith in her Lord grew deep, she was so thankful and took nothing for granted. Demi fought to be resilient and was wise beyond her age.
Demi met John Mullarkey when she was 15; I believe like all young girls she felt impressed that a boy liked her. This relationship was off and on because she wasn't allowed to "Date," however, she spent time with John because he was her older brother's friend and he visited our home.
Looking back at the signs that I wished I knew then, she seemed frustrated and emotional, I thought of this as a "Normal" way a teen might react to a situation. Demi's behavior was not normal, it is a warning sign that we all missed.
August 15, 2007, one Day after her 16Th birthday, Demi was murdered by John in our home. She was home alone and he stabbed her 16 times. John now serves a life sentence with out the possibility of parole….In a different way so do we.
Please visit Demi's story and those that love and miss her beyond words at datingbeyondcontrol.com. You will also find helpful links and warning signs of Teen Dating Violence.